Produkty
BONDLOCK electronic lock / PIN codes / HF GREEN
Advanced BondLoc lock with reusable seal for commercial vehicles
Use:
Advanced BondLoc lock with reusable seal for commercial vehicles
Power:
4 * AA Battery 2.9AH (Internally built into the lock)


Opening:
RFiD cards, changing PIN codes (keyless operation - Challenge Response)


Closing:
Slamlock option (automatic closing of the lock), Deadlock option (the driver decides when the lock is to be closed)


Number of locking pins:
1 pin for each housing
BondLock-electronic lock with reusable seal for commercial vehicles
Securing your vehicle and protecting your business BondLock is an innovative security system that has been designed to protect vehicles against modern theft techniques while offering a number of fleet management benefits. BondLock is designed to offer optimal protection against widespread forced physical attacks, such as the famous pull-off and theft method, while also protecting against a new generation of keyless theft techniques where perpetrators bypass the manufacturer's existing security and central locking systems. The patented design provides resistance to various theft techniques, not just a single weakness specific to the vehicle.
The locking mechanism, proven to withstand prolonged forced attacks under attack conditions, is installed inside the cargo area for optimal protection and is able to withstand a tensile load of over 2 tons. Customized Vehicle Security Solutions What really sets BondLock apart is how it can quickly and easily adapt the system to suit your requirements and budget. You can choose between single or multi-point locking options, define an access control method, and even add a range of advanced fleet management options such as emergency access (in case of lost keys) and remote unlocking.
HF GREEN –
intelligent, universal, easy to use
HF GREEN is a solution thanks to which the lock can be opened with a RFiD card. The biggest advantage is the fact that the reader can be mounted literally anywhere on the vehicle. In addition, it is possible to install an emergency opening button in the event of a loss of the RFID card.

Maple IQ System
BondLoc can be integrated with the IQ platform to provide a first-class security solution.
Bond Lock IQ combines electronic sealing (4-digit seal number), advanced access control – RFiD cards, randomly changing PIN codes (Challange Response) and a high level of security
Resposibility:
The IQ platform provides full operational transparency, eliminating any ambiguities and providing previously unattainable information about cargo security and access events.
Each door event is automatically logged

Provides detailed information on who accessed the vehicle, when and where

It strengthens individual responsibilities and assigns responsibility
Emergency access:
In the event that RFiD cards are blocked in a vehicle, lost or stolen – access can be obtained using a one-time emergency PIN number.
Challenge Response – option
A powerful feature that eliminates the need for access keys, eliminating the hassle of key management. Challenge Response allows the user to enter one-time access codes that are generated using secure algorithm-based technology that can only be issued or generated by authorized personnel.
Master Key System – the so-called general key system – a special key system made in such a way that with the use of one key you can open any number of locks specified by the Ordering Party. The Master Key system may consist of various types of cylinder (patent) inserts, padlocks or electronic locks in the case of RFiD cards. Master Key systems work well in all types of fleets of trucks because they eliminate a number of problems caused by an excessive number of keys in circulation (e.g. keychains, no control over duplicating keys by unauthorized persons, no possibility to quickly open the door in an emergency, etc. ). The access rights of individual keys in the system may be different. Master-Key is both simple systems characterized by a small number of doors and a simple access structure, as well as large systems containing many different groups of keys, subgroups and combinations. There are few practical limitations to the size and complexity of the system.
The master key system can be divided into 3 basic groups: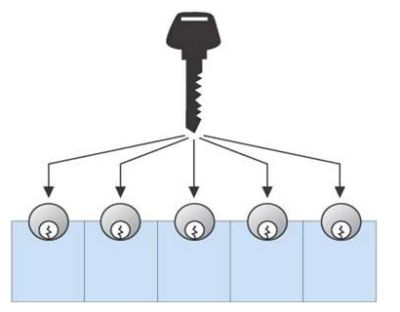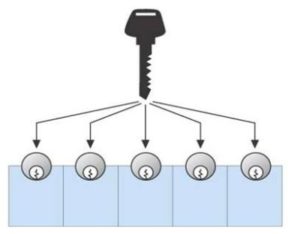 KEYED-ALIKE – unified cylinder system – all lock cylinders and padlocks as well as advanced electronic locks (RFiD or Ifob cards) are opened with the same key.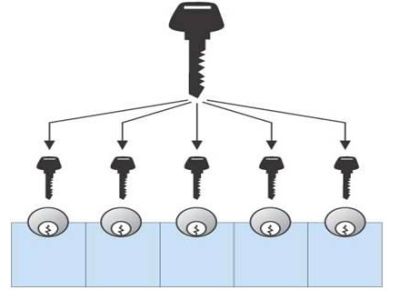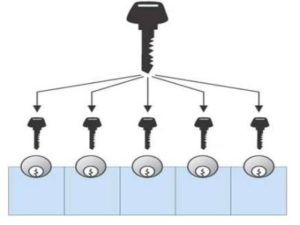 MASTER-KEY – master key system – the master key opens all locks in vans, containers or semi-trailers, while individual locks are opened only with individual keys.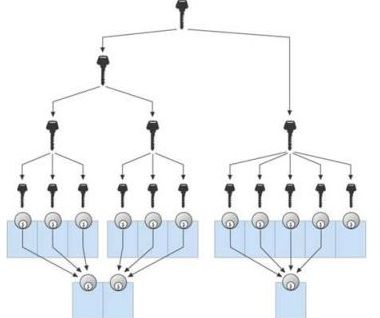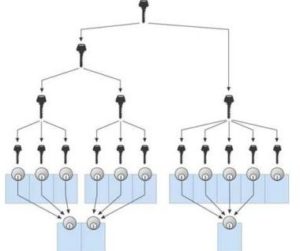 GROUP MASTER-KEY – master key and group key system – designed for large transport fleets, etc. Depending on the organizational structure of the institution – there are several groups of keys in the system that are subject to the overriding Master key that supports the entire system.