Additional protection of side and rear doors for delivery vans, trucks up to 3.5 T, small trailers and box-type semi-trailers
Use:
Additional protection of side and rear doors for delivery vans, trucks up to 3.5 T, small trailers and box-type semi-trailers
Dimensions:
150mm x 100mm
Material used:
stainless steel
Padlock/cylinder:
lock insert integrated with the lock, anti-drill and anti-burglary, incl. 2 keys.


Gatelock Van L ÔÇô is a mechanical device designed to secure the cargo space in a delivery car, small-size trucks (up to 3.5 t), or a camper. It is suitable for the rear and side doors of any type of the vehicles mentioned above. The lock protects the cargo against theft (or theft attempts). The Gatelock is easy to install and highly reliable.
Gatelock Van L is a high-quality safety lock designed to protect vehicles, tools and cargo.
Gatelock Van L is designed for special-type vehicles weighing up to 3.5 tons, for delivery vans and small trailers. The basic principle of operation of the lock is similar to the Medium and Small versions (the entire mechanism does not contain any loose parts and is completely protected by a hardened-steel body). The special distance applied to the lock mechanism improves its versatility and allows it to be installed on door panels of any thickness.
---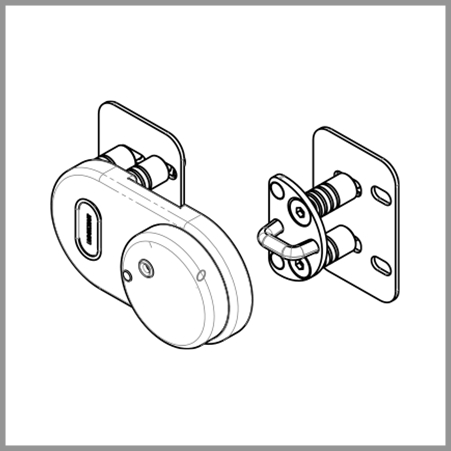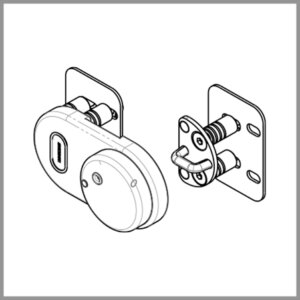 The GVL is intended for vehicles with large doors. It consists of a mounting structure that allows installation regardless of the thickness of the door. It can be mounted on both the side and rear doors of a BOX VAN type vehicle or semi-trailer. It is probably the most solid and durable product from the entire GV family. it is permanently mounted to a vehicle or semi-trailer. Using screws, reinforced plates and spacers to compensate for the dimensions of the plate and prevent deformation during installation.
 
ACCESSORIES: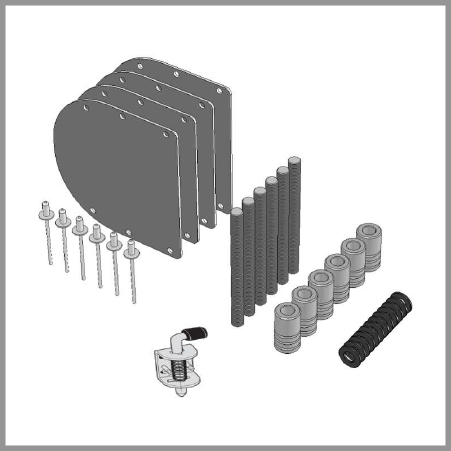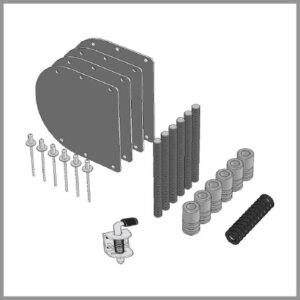 Strengthening kit – consists of external and internal stainless steel plates. The set allows the assembly of GATELOCK VAN locks on vans and large trucks, ensuring better resistance and allows for mounting on all structures and shapes of vehicles.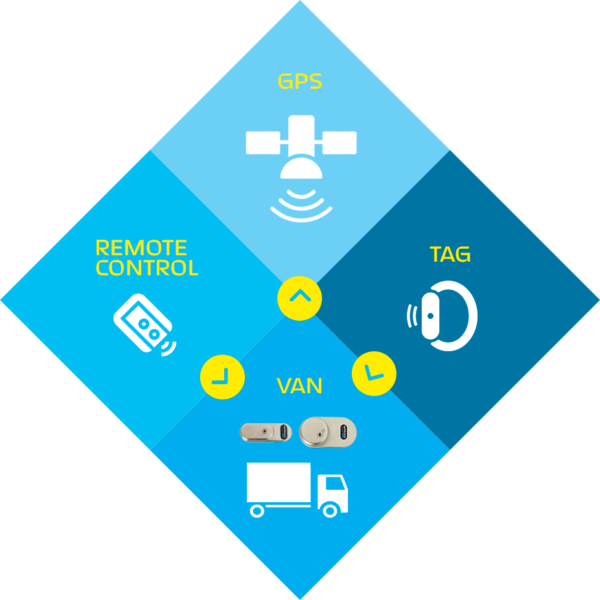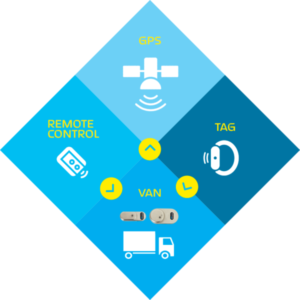 Electrical kit – can be operated with an electrical system consisting of a motor and a control unit linked to a safety cable for protection. The lock can be opened with a key or one of the two remote controls from the set, without the use of a key; similarly, the control unit can be connected to a satellite device (GPS) or mounted in the vehicle which will allow the remote control to be unlocked by a monitoring center which is controlled by the GPS.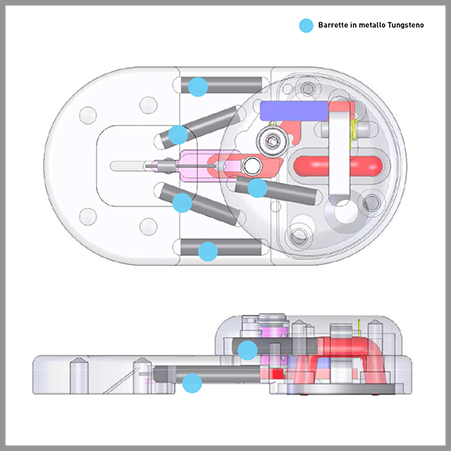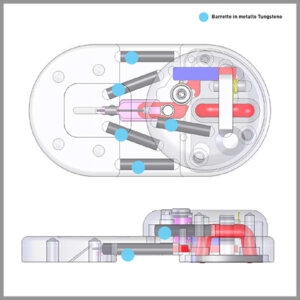 Additional protection GVL – in the EXTRA series, they have the same properties in the standard series, in addition, they reveal amazing resistance against cuts (even when using electric tools). Resistance is related to the integration into the body of the hard metal (tungsten carbide) rods 8mm in diameter and 40mm in length. They are placed in strategic places inside the collateral.
 
Cover / tarpaulin – additional protection against dirt and unfavorable weather conditions.
Features:
Protection against cargo space break-ins, breaking of doors, etc.;
Protection against prying and accessing with the use of tools commonly used by
burglars; resistance to drilling and polishing;
Easy installation;
Easy operation, even with one hand;
Maximum safety;
Latch fully protected by tight steel body;
High-quality internal emergency unlocking system;
Flexibility: each door may be locked with the help of a single system with one key
code.
Gatelock Van L is also available in the side- and rear-door versions (ask for different options at the store).
GATE-LOCK L protection meets the requirements of the TAPA TSR 2 and 3 certification
Master Key System – the so-called general key system – a special key system made in such a way that with the use of one key you can open any number of locks specified by the Ordering Party. The Master Key system may consist of various types of cylinder (patent) inserts, padlocks or electronic locks in the case of RFiD cards. Master Key systems work well in all types of fleets of trucks because they eliminate a number of problems caused by an excessive number of keys in circulation (e.g. keychains, no control over duplicating keys by unauthorized persons, no possibility to quickly open the door in an emergency, etc. ). The access rights of individual keys in the system may be different. Master-Key is both simple systems characterized by a small number of doors and a simple access structure, as well as large systems containing many different groups of keys, subgroups and combinations. There are few practical limitations to the size and complexity of the system.
The master key system can be divided into 3 basic groups: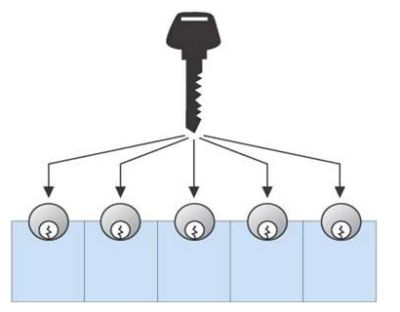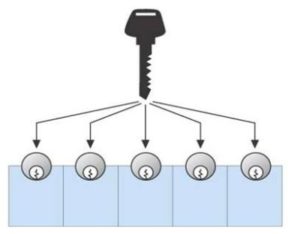 KEYED-ALIKE – unified cylinder system – all lock cylinders and padlocks as well as advanced electronic locks (RFiD or Ifob cards) are opened with the same key.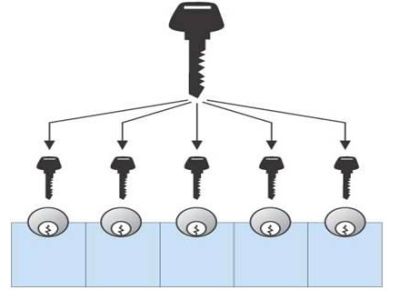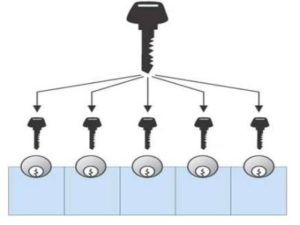 MASTER-KEY – master key system – the master key opens all locks in vans, containers or semi-trailers, while individual locks are opened only with individual keys.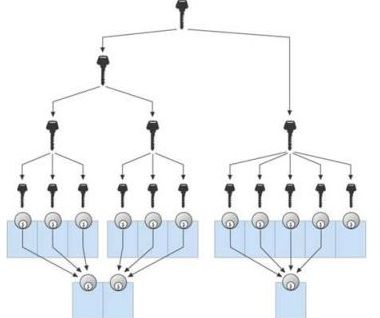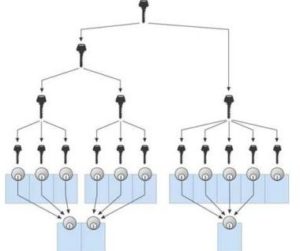 GROUP MASTER-KEY – master key and group key system – designed for large transport fleets, etc. Depending on the organizational structure of the institution – there are several groups of keys in the system that are subject to the overriding Master key that supports the entire system.